There are many tools that has made easier to track backlinks and optimize your website for higher rankings. Backlinks are the incoming links to your website that is one of the most important factors for ranking.
Further, there are two types of backlinks i.e., Do follow and No follow.
Do follow backlinks are good as they pass Link juice to the website whereas No follow backlink does not. Search engines want their backlinks to be natural and having only do follow links can make them doubt about your intention.
What is a Bad backlink?
Backlink that comes from an unrelated and untrusted source is called a Bad backlink. Sites that already have been penalized and violating the Google Webmaster Guidelines may have a negative impact on the SEO. Bad backlinks can give major negative impact than the good ones comparatively. They can be prevented by a quick website analysis and by monitoring your backlinks.
Moz says, Keywords are those ideas and topics that define what your content is about. In terms of SEO, they're the words and phrases that searchers enter into Search engines, also called "search queries".
Long tail keywords are good for faster ranking and are more than 4 words. There are some important places to put them up, Heading tags, in the first paragraph of content, Meta tags and Alt attributes.
Metrics that helps in determining about the quality of a backlink:
Majestic trust flow and Moz spam score are the most trusted websites to check the trust about a domain or page that is based on the link quality. They should be related to your website's niche for an effective seo. A good link should be come from a well-linked page on a site.
Collect the data about backlink: Google has started deindexing the sites with low quality backlinks and that's something serious. Identify the linking root domains that can be collected by various backlinks data sources. Collect the percentage of linking root domains that has been deindexed. Domain and Page authority is an important factor, check them also.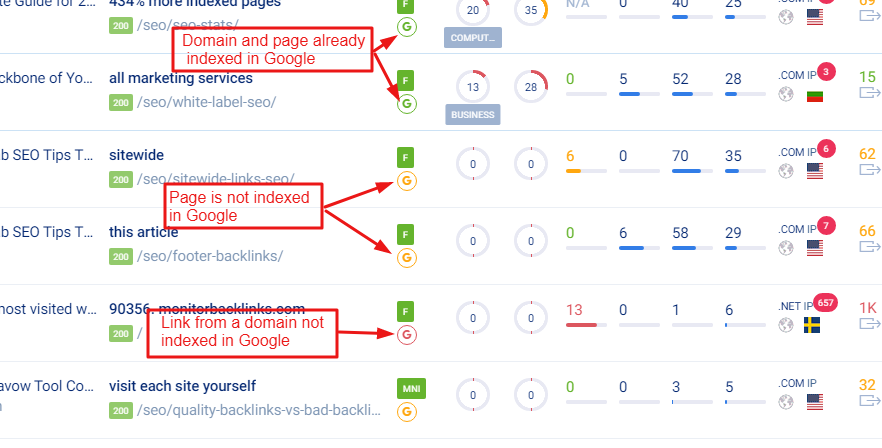 Social Media metrics can also help in identifying the linked root domains. Lesser social mentions mean that the website has a low quality domain. Every search engine want relevancy between the website and its backlinks son different levels. Website of Domain authority score 30 or more meant that it has enough reputation.
Apart from Backlinks, Page content length also matters. It is the number of crawlable words seen by Search engine on one web page. The minimum length should be 500 words of a page.
The website audit needs to be done on a regular basis to prevent any kind of loss. Diversity is important so never post your link to one site as it looks bit suspicious.
Qualities of a good backlink:
They come from the web pages that are relevant to your content for higher conversions. Relevancy of a backlink means a close connection. If you have a travel website why would you make backlink on a government job website? And unluckily, if you are doing so, chances are higher that you site is soon going to be penalized.
Good content and backlinks never gets outdated. When Google sees your backlink there are 3 chances i.e., they are going to benefit your rankings or going to do nothing or may be penalizes your rankings. It all depends on the quality of your backlinks.
Bad backlinks can cause a fall of 90% organic traffic due to penalization.
How to find bad backlinks:
According to Yoast, the main difference between good and bad backlinks is the quality of website they are on.
Having backlinks is good for a website's ranking but one that has a lot of backlinks without any relevance will be counted in spam. Commenting is a common and easiest ways to get backlinks but spam links are obviously bad. There are many plugins available to filter the spam comments.
Anchor text is a visible and clickable text in content. Back in 2012 when Google Penguin update was rolled, they become the easiest way to understand relevance about a website. When we made a backlink, Google indexes it and then it gets placed into its database for a specific website. The keyword rich optimization could lead to Penguin penalty. Over optimization of anchor texts is always bad.
Linked websites should be related to your business. Get rid of any kind of low-quality backlink and 404 error pages that are giving wrong message to the Search engines.